A MOMENT OF SIBLING RIVALRY CHANGED BASKETBALL FOREVER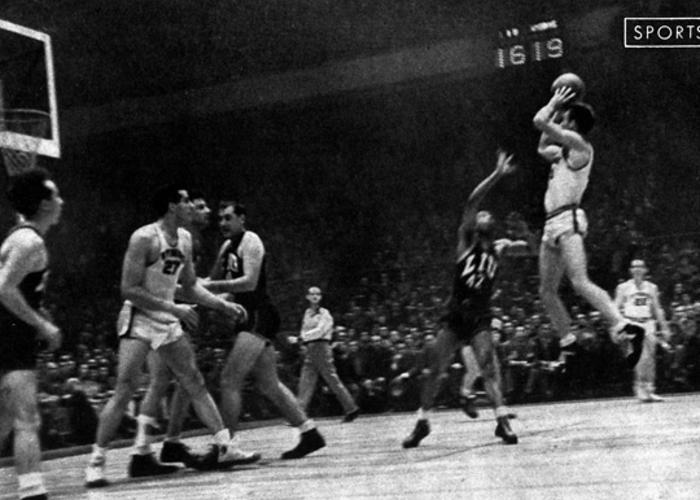 Kenneth Lloyd Sailors was born on January 14, 1921 in Nebraska and grew up on a small farm south of Hillsdale Wyoming. He had an older brother Barton. There was a basketball ring on the property that was hammered into the house. Barton was 6 feet four inches and half foot taller than Ken. They would play one on one. Ken could not shoot the basketball over his brother. Ken grew more and more frustrated. One day, so the story goes, Ken planted his feet, leaped into the air and threw the ball over Barton and it went in the basket. Ken must have felt so much excitement. And Barton? Well we don't know what he felt, probably a combination of amazement and disgust. The younger brother got the best of the older one.
Ken took this jump shot to the University of Wyoming. In 1943, he led the Wyoming Cowboys to the NCAA Men's Basketball Championship. Ken was named the NCAA Basketball Tournament Most Outstanding Player. He earned the same honor again in 1946. In addition, Sailors was selected as an All-American in 1942, 1943 and 1946.
He moved on to play professional basketball from 1946 to 1951 as a player on the Cleveland Rebels, Chicago Stags, Philadelphia Warriors, Providence Steamrollers, Denver Nuggets Boston Celtics and Baltimore Bullets. He scored 3,480 points during those years.
Sailors died on January 30, 2016 at age 95.
How many professional basketball players should take a moment to think of Ken Sailors and Bud Sailors and thank them for their rivalry. Sometimes that competition between brothers and even sisters can lead to remarkable progress and alter the way we play a sport, write great novels, invent wonderful technology, make films, etc.