Yaseil "Wild Horse" Puig Valdes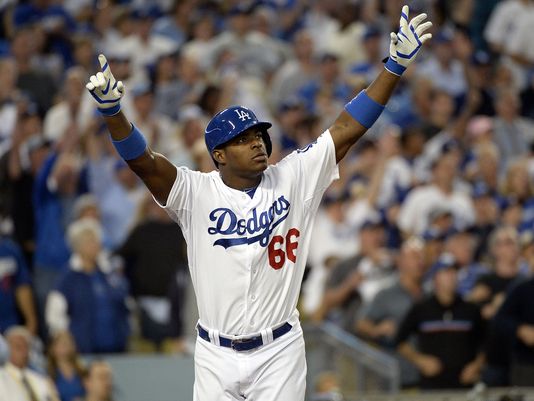 The Los Angeles Dodgers' right fielder has a large name that fits his very significant size. Puig is 6'2" and weighs 240lbs. Even his jersey number is large (66) and his salary of $5.5 million is a huge step up from his years playing baseball in Cuba. Puig is just 26 years old. At a very young age, he was identified as the center of the next coming of a Dodger dynasty. On June 3rd of 2013 he made his major league debut. In that first year, Puig batted 319 with 19 home runs and 42 RBI's. The next year, he hit 16 home runs with 69 RBI's. In 2015, Puig hit 11 homers and had 45 runs batted in. In 2016, he hit 11 homers and drove in 45 run. Clearly these are numbers that did not meet up with the expectations of the Dodger's, Puig' s and his fans. The hype and his nickname were not matching with his performance.
Most of Puig's athletic problems became serious and apparent in 2015. He had developed hamstring issues that just didn't go away. In the vernacular of sports, he was initially thought of us as a stud. He has an incredible physique and natural ability. He had played for the Cuban national baseball team in the 2008 World Junior Baseball Championship and won a bronze medal. He defected from Cuba in 2012. So, what is going on with Puig?
In developmental terms, Puig seems to be psychologically underdeveloped even though his body does not let us in on it. We have to go further in investigating or vetting Puig beyond his statistics. Puig had been charged with reckless driving and speeding in Chattanooga, Tennessee in April of 2013. He was driving 97mph in a 50 mph zone. The following year Puig was arrested on a reckless driving charge for driving 110 mph in a 70 mph zone. The state of Florida dropped the reckless driving charge. Some may say "so what?" Maybe the Dodgers decided to overlook all of these warning flares. It is easy to be a Monday morning quarterback. I'm not trying to blame anyone here.
Puig performed certain antics while on the field. He might throw his bat in the air after a home run. The crowd loved it. At least they loved it when he was doing well. But, when his performance and health problems showed up, the cheers turned to jeers. These changes might have affected him very deeply. By 2016, Puig was sent down to AAA. Puig was not enjoying his baseball career. The Wild Horse was in a hole. Puig needs time to grow up and figure out how to be more disciplined in his personal and professional life. This may take some time. If everyone including Puig, management and fans can give him some time to become an adult, he might just develop into that stud. And by the way, the Dodgers should do a better job of vetting and understanding their future stars.