What's Up With Jake Arietta?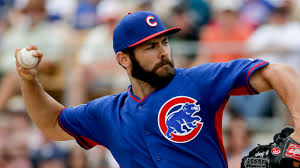 Since the beginning of this 2017 baseball season, reporters and Cub fans have been asking the question of "what's going on with Arrieta?" In his starts so far, he has compiled a 5.44 ERA, has won 4 and lost 3 with 49 strikeouts. These statistics for the average pitcher is not alarming. But for Arrieta, it is concerning. In comparison, his statistics for 2016 was 18 wins and 8 losses with a 3.10 ERA. In 2015, he was 22 wins and losses with a 1.77 ERA. As the mathematicians say two points make a straight line. Now we have 3 points that can lead us to wonder if this is just a moment in time for Arrieta or do we have a significant pattern of slippage of performance?
One reporter, who will remain anonymous, wondered if Arrieta was trying to save his arm because he could get a bigger salary in the next year. If he developed arm trouble this year, his potential contract would become much smaller. The speed of his pitches has noticeably decreased this year. What does that mean? His fastball has dropped from 97mph to 93mph. Although it might not sound significant, pitchers know that a 4mph drop makes a pitcher much easier for a batter to hit. If, and I mean if, Arrieta is intentionally protecting his arm by not throwing at his normal speed, he, in fact, would be endangering the health of his arm. Pitching in an abnormal way can put other kinds of strain on his shoulder and arm.
In addition, Arrieta might lose his confidence. Regardless, of the salary, pitchers need to believe in their body and their ability to get the opposition out. Confidence is a very important factor in any athletes performance. Creating self-doubt is a virus that that can have long lasting results. So, if he is indeed trying to protect his future income, by protecting his arm through holding back on his natural style and ability, he is barking up the wrong tree. I would suggest that anyone concerned with Arrieta's career, advise the pitcher to get back to basics.
For an explanation of Arrieta's decrease in performance, do not look at the money or maybe better said, if Arrieta is counting the money, get him off of the money chase because it will backfire. Even though it might have paid off in the Watergate Investigation to follow the money, it needs not to be the case here.