MONTE IRVIN: WILLIE MAYS' MENTOR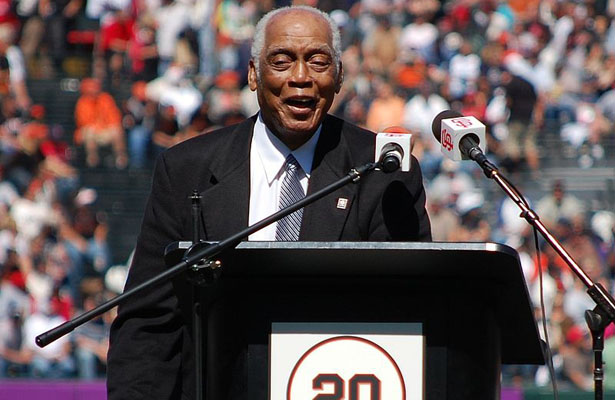 Behind any great athlete you will usually find a less known athlete or coach who has mentored the well-known marque sportsman or sportswoman. Sometimes a great athlete has had more than one mentor. That person can be someone who has taught the star skills, sometimes it is a mental approach to the sport. No athlete gets to be that good without the helping hand or mind of a less known person. This is true not only in sports, but in all walks of life.
From Jan. 18, 2016:
MONTE IRVIN: WILLIE MAYS' MENTOR
Last week long time New York Giant baseball fans lost one of the great players. He was 96 years old and lived in Houston, Texas.
For those who are thinking "Who?", let me share some facts about Irvin's contributions to baseball and the American landscape.
One of the first outstanding black players in the major leagues.
A member of the Hall of Fame for his brilliance in the Negro Leagues.
In 1968, he became the first black executive in Major League Hierarchy. His role was to promote a game that initially barred him from participating.
In high school he was an all-state performer in baseball, basketball, football and track and field.
He played his first game for the Giants in 1949 when he was 30 years old. He was two years older than Jackie Robinson who broke the racial barrier in 1947 with the Brooklyn Dodgers. Willie Mays joined the Giants in 1951 when he was 20 years old.
Mays considered Irvin as his mentor and as someone who was like a second father to him.
Cool Papa Bell, a Negro League star and Hall of Famer, felt Monte Irvin should have been the person who broke the racial barrier. When Jackie Robinson broke into major league baseball, Irvin was returning from Army service.
The Giants retired Monte Irvin's number 20 in San Francisco in June of 2010.
Of all Monte Irvin accomplishments, the role of mentor to Willie Mays stands out. It reminds us that those of us who become exceptional often can look back and see someone who was incredibly important in our achievements. No one gets there alone. Those who did not have a positive mentor had to struggle and find their own way – often getting lost and into great difficulties. If only more of us had a Monte Irvin in our lives, we could have gone so much further. We seem to spend time trying to find that mentor who helps us get through the trials and tribulations of life. These mentors have skills. But they have more than skills. They have an ability to teach and hold our hands and point the way. The coaches in sports have the opportunity to be a mentor in the sport as well as teaching how to live life.
Thank you Monte Irvin for your service to the fans, black athletes, our country and the youth you inspired and helped open the racial doors of this country.