"ON A CLEAR DAY" A MOVIE REVIEW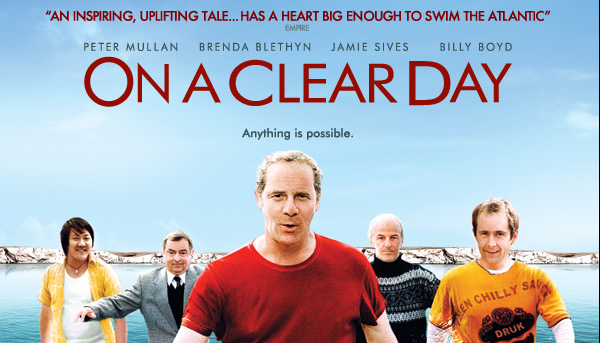 Frank, a 50 something year old man and the hero of the story, has lost his job at a Glasgow shipyard. His wife has taken to learning how to drive a bus in order to bring in some needed cash for the family. He has a number of guy friends who are somewhat down on their luck as well. In addition, Frank has some struggles with his grown son. Occasionally, he goes to a neighborhood swimming pool for some exercise. One day, he spots a young disabled boy in the swimming pool. The boy is not able to use his legs. He struggles to swim with all his might and never gives up in his attempt to get across the pool by just using his arms. Frank is moved by the boy's determination and the pride of the boy in his ultimate success. This moment becomes an inspiration for Frank. He decides to swim the English Channel. He organizes a training program which includes his buddies. At first, he keeps the mission from his wife. Eventually, she discovers Frank's plan and doesn't understand why he is spending so much time at the pool when he "needs to find a job." At some point, she gets clear about the importance of the challenge to her husband.
This movie was produced in 2005. The cast includes Peter Mullan, Brenda Blethyn, and Billy Boyd. They are magnificent. The direction is spot on by Gaby Dellal and the script by Alex Rose is perfect in tone. I recommend the film highly. It talks to our needs to overcome, to never give up and the role that a sports challenge can play in resurrecting our self-esteem, heal relationships and inspire others.