DEAN SMITH AND JOHN WOODEN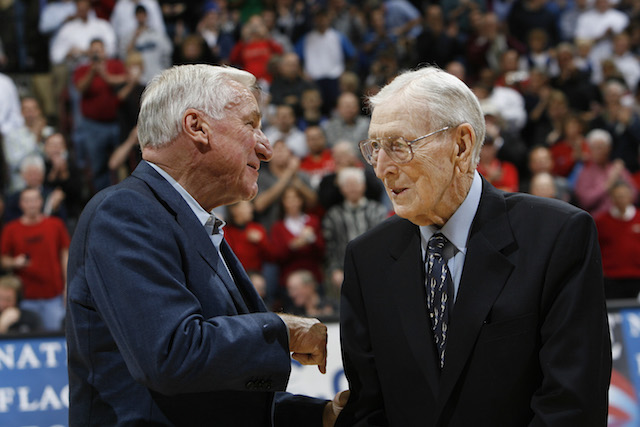 On this very cold Sunday morning, I was reviewing the Sports section of the New York Times. There was a compelling article written by Joe Nocera focused on the scandal that struck the University of North Carolina called the "Paper Class" and first anniversary of Coach Dean Smith's death.
Coach Smith had won 879 basketball wins and two national championships. His legacy was created by these triumphs on the court. It was mostly about the players lives that he positively influenced. He was more than a basketball couch. He was a life coach.
When I interned at UCLA/NPI there was another great coach of a basketball program that left his remarkable record on the University and its players. For those who don't remember, let me review some his accomplishments. His teams won 10 NCAA Division 1 Tournament Championships, 12 NCAA Regional Championships, 6 NCAA College Basketball Coach of the Year awards. His head coaching record was 664 wins and only 162 losses. John Wooden's legacy went way beyond the numbers. Like Dean Smith, he was a teacher of life to his players.
Both coaches taught their players how to deal with life's ups and downs. Their basketball players reaped benefits far beyond the opportunity to play on successful basketball teams. It went beyond the trophies and the memories. Years after their college years came to a close, the people who were touched by both Dean Smith and John Wooden learned how to deal with others and leave the world a better place than they found it.
I so wish UNC had not tainted the program and legacy that Coach Dean Smith created. Maybe the University should remember what positive impact a sports program can do for so many young people. Coaches are teachers of basketball skills. But, more than that, they can be life coaches. Let's hope that UNC can get back to what being a coach is all about.
Thank you to Dean Smith and John Wooden for helping reset our compasses. We can all gain from what they showed us. I do hope the coaches of today will remember what they can do for the young players of today.