An Amateur Golfer From Long Island Plays With the Big Boys At The Bob Hope Desert Classic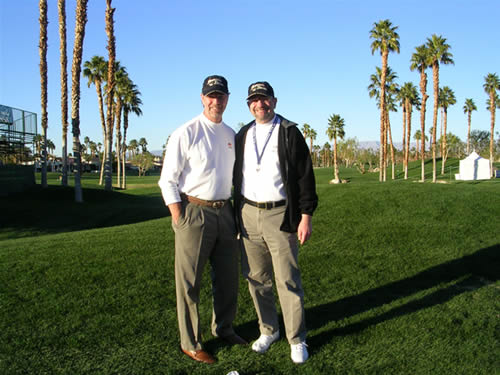 By Paul Schienberg, PhD
My brother, Mark, plays out of the Muttontown Country Club on Long Island. On January 13, of 2007, he and I set out on a journey that would result in him playing as an amateur golfer in the Bob Hope Pro-Am Desert Classic in Palm Springs. Mark had never played in a golf tournament, let alone one that includes celebrities, professional golfers, press coverage and a national television audience.
I accompanied Mark for a number of reasons: I wanted him to have a fan club: Mark's birthday is January 19th and we could celebrate it together; and as a publisher/reporter of a sport psychologist magazine, Psyched (www.psychedonline.com) as well as a writer of a column, "Ask Dr. Schienberg", for Golfing Magazine, I would be able to do some reporting, interviewing and write this story.
A stretch limousine picked us up in Manhattan and we headed towards LaGuardia Airport. In the stretch limo we had our golf bags, suitcases, carry-on pieces and my lap-top computer. It was surreal….like the pro-golfer and his entourage going about their normal lives. We began a trip that had very little to do with life as we new it. We stared out the window, chatted about nothing, and arrived at the airport. We had first class seats on the flights to Chicago and from Chicago to Palm Springs. If you're going to play with the pros, it is good to get into their experience. Mark needed to believe that he rightfully belonged in the Tournament.
We arrived at our hotel late that afternoon, unpacked, decided to have a quiet dinner at the hotel and try to get some sleep before the first practice round set for the next morning. We didn't talk about golf that night. Mark didn't think he would get much sleep. I suggested that if he just got to rest through the night and quiet himself, it would work in his favor. Facing Mark was three days of practice rounds and four rounds of actual tournament play. Each Tournament round would be played on a different golf course: The PGA West, Bermuda Dunes, LaQuinta, and The Classic. The three practice rounds were to be played on there of the courses of the Tournament.
This is a good time to explain how the scoring of this Pro-Am Tournament is constructed. There are three amateurs in each group. The fourth player is a professional. Each group has three amateurs – a high, middle and low handicap player. The three amateurs play together throughout the Tournament rounds and form a team. A different professional is added to the amateur team for each Tournament round.
The first day of practice rounds came and the weather was cool and cloudless. Mark was scheduled to start his first practice round at 9:30 AM. So, we showered, got into our costumes around 7:30 AM, loaded our SUV with his golf bag and got some breakfast at our hotel. We talked about the weather, the beautiful, mountainous surroundings and the opportunity to participate in something so unique. After paying the check, we walked down to the practice driving range next to the course. Mark wanted to find his caddie. As soon as Mark spotted him, I realized that a part of my job was over. It was like turning my responsibility for my younger brother over to someone I could trust. He was in good hands.
I turned my attention to my job as a member of the press covering the event. So, I drove over to the Classic Golf Club, the home of most media activity for the Tournament, got registered and made some good contacts.
Mark and I met up later that day. There was a smile on his face as he exited the golf course. The first practice round was over and he was relieved that he had done as well as he had – not to mention not having embarrassed himself. We talked about the other amateurs that made up his group. Mark had entered the Classic with an 18 handicap. That day he played as well as any of the other amateurs who had lower handicaps. So, he was pleased…very pleased. I was relieved for him.
For your information, in order to be entered as an amateur in the Tournament, you have to have no higher than an eighteen handicap and pay a $5000 entry fee. Mark's company put up the fee as a gift for his hard work.
The second day was different from the first practice round day. He was much more nervous – the real Tournament was closer. He said, "I want to do well. Yesterday, I just wanted respectability and I got it. Now my team will be expecting the same from me." The next practice round day went not as well for Mark. The final three holes of the last practice round went very poorly. He was critical of himself. When he gets into that negative mind set, he becomes short with people. The real Tournament was getting closer and closer. The weather had turned nasty and the weather forecast was getting worse. He was in many ways more settled in to the rhythm of a golf day.
His play on the third practice round was somewhere between the first and second day. The bond between Mark the two other amateurs in the group had taken hold. They felt like a team – not just three individual amateurs trying to do their best. The scoring for the team was based on best score for each hole by any of the players in the group. The weight of stress and responsibility was shared by each member. So, they routed for each other. As I watched them walk down the fairways, I could see more smiles, chatter and friendship having a positive effect on their enjoyment and play.
It didn't seem like a great atmosphere for golf would be present on the first day of real tournament play. But, one of the great things about golf, whether you are an amateur or professional, is that it is played by everyone in the same conditions. No one gets an advantage. The high winds and low temperatures were so uncomfortable at the end of the second round; I hid inside the clubhouse and had myself a hot tea instead of a beer.
An encounter with my new friend Kathleen Bennett (the marketing director of the Classic Club golf tournament) broke the tightness that Mark had fallen into on the first day of Tournament play. It was an hour before his tee off time. She knew the various holes of the Classic Course. So, she started going over them in rapid fire fashion, all the holes and how they could cause different problems…a water hazard here, narrow fairway there…pin placement somewhere else.
You could see the expression on his face changing with every problem that she was laying out for him. "Are you okay?" I asked. "Sure," he replied. I quickly escorted Mark out to the practice range and turned Mark over to his caddie again. This was good for Mark – to get the round underway by swinging the club on the range and practicing his putting.
So, I went back to the clubhouse to have a cup of coffee. Out of no where Mark appears in the golf shop. I rushed over and asked him, "What's wrong?" He forgot his belt and needed to buy one. After choosing one, he went out to the driving range again. I went back to my coffee. He ran back into the clubhouse again. What now? He forgot his favorite shoes in the golf shop when he was buying the belt. Thank goodness they were sitting next to the cash register where he put them down while paying for the belt…so much for not being nervous. I wondered what he would have forgotten if he knew he knew he was nervous.
Mark's practice session at the driving range went very well. He hit some great drives and started to focus mostly on his irons. I went over to the first tee and waited for my brother's name to be called. It was a half hour later that I heard "On the first tee, representing the Muttontown Country Club from Long Island, New York is Mark Schienberg." I recognized the name and my eyes shot over to the tee. There was Mark teeing up his drive. I remembered Mark telling me, "I just hope I hit it."
I may have been more nervous for him than he was for himself. I lapsed into prayer. He hit the ball very well and we both smiled at each other as he headed down the first fairway. I would find out after the round was over that it was Mark's best drive of the day. It was his iron shots that got him through the round in great stead. Often you don't know which clubs will be working for you through a round of golf.
The four days of Tournament play was officially underway. He was now going through the real experience. This was very good. By the time this is all over he will know he has been through a significant life event – one he will not be able to forget. He will have learned a lot about himself, golf, playing in a tournament, etc. He is learning to trust in himself – in a way that really matters – by knowing himself under a new circumstance. Don't short change the situation or yourself by denying the experience of it. It's a great metaphor for life.
Playing six rounds in six consecutive days, practicing before and after each round and getting good night sleeps between rounds was not easy and often resulted in physical exhaustion. However, what was more difficult was the mental exhaustion. If you are a professional golfer, you may be used to this kind of grind. But, if you are an amateur golfer, you may have never experienced this degree and length of mental focus. As an amateur you may play four rounds in a week at most. There is a need to take some mental and physical time off. But, you can't – not the way this tournament is set up – day after day – round after round – the focus required is constant – weathering the ups and downs – maintaining focus regardless how the conditions are and how others are playing, etc. Learning how to manage the prolonged mental stress is vital. It is important to take time to practice relaxation techniques as much as you practicing the physical skills of playing golf.
At the end of the third day of tournament play, Mark had transformed himself into a person who walked and talked like a man who belonged in a tournament of this magnitude. I had to leave Palm Springs one day before the end of the last day of play. It was upsetting to not see him finish. But, there were no flights on Sunday and only one flight was available on Saturday. I had to be back in New York and be at my other work by Monday. I was assured that Mark would do fine on the last day even though he was still muttering "I will not do this again."
Mark's team of amateur players had been assigned four different professional golfers to play with – a different pro for each day of play. Kirk Triplett filled out the four some on the first day. Wearing a great hat and a big smile, he was as friendly and helpful as any amateur could wish to partner up with. He gave pointers, patted guys on the back and made Mark feel as relaxed as possible. It was great that Triplett was the first pro. In the second round, the amateur group played with Briny Baird. Other than for also wearing a sombrero, he in no way was like Kirk. Briny just played his game with almost no interaction with his amateur playing partners. He wasn't nasty – just not social – all business.
So, the three amateurs again felt that they were the team. The third and fourth days brought Cameron Beckman and Kevin Sutherland to the group. They were very much like Baird. They were there to win a Tournament and make some dough – not create new friends. Therefore, the last three rounds were not as much fun. It became a more serious experience and the focus was on doing the work of playing in a golf tournament as a team of amateurs, playing against other amateur teams. This was more like the real deal of playing in a professional golf tournament. There was much the guys learned from that as with Kirk – just different learning.
By the way his team had scored 29 under par for the Tournament. They were not far from the winning the trophy for the best amateur team. Very respectable! He had played the same courses with the likes of Phil Michelson, Jeff Sluman, Justin Rose, etc., and held his own. Good for you Mark!!!
When Mark and I met up two days later, his tune had changed. He confessed that "I will do the Tournament again next year." It was not hard to imagine that when he got back to the Muttontown Country Club on Long Island, he would be striding down the course with a pride that he hadn't had before. It was great to have shared the ride with him. It brought us even closer than we had experienced before. He was thankful that I had been there and I was happy that he let me share it with him.