Interview: Phil Michelson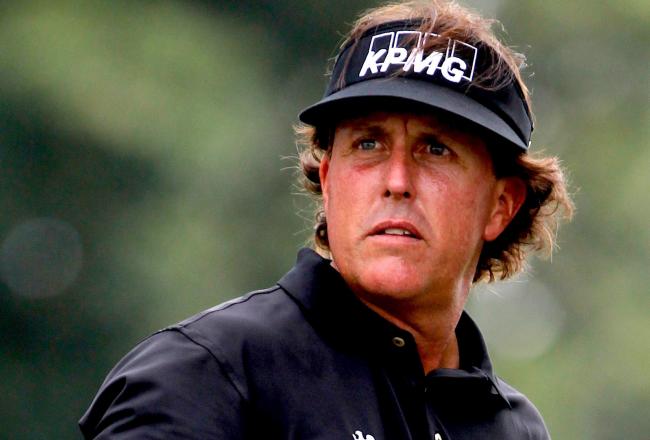 With Paul Schienberg, PhD
At the 2007 Bob Hope Pro-Am Dessert Classic Golf Tournament
Phil was asked about his somewhat erratic play after the loss at Wingfoot. Did he think about the loss at the Open? Was it driving him to distraction? Phil said he didn't think about the loss at Wingfoot until after the entire season of golf had been completed. His erratic play was not in any way related to being upset at the loss. In fact, he said there were two majors where he played at a level that was okay with him. Although he didn't win in either tournament, he played well enough to be satisfied with his play. His tone of voice and facial expression were less convincing. He said that the biggest problem he has had over the past two years was being terribly out of condition. In fact, Phil does look like he has lost a considerable amount of weight. He sees his game improving from now on because he has become so dedicated to getting and staying in much better shape. He felt that when he wasn't in shape it was more difficult to get the head of the club to be square with the direction he wanted the ball to go.
Phil shared his thoughts about the new square driver. He exclaimed that the square driver is a great way to go if you want to hit the ball long and straight. If, on the other hand, you like to hit a fade or a cut drive, stay with the round headed driver. Some holes are made for a straight drive and others are calling for movement on the drive. This is why he has carried both the square headed and round headed drivers in his bag.
He also touched on Michelle Wie. Phil noted how impressed he is by her maturity. He appreciates her decision to go to college at Stanford and not go out for the professional money. She is sixteen years old and Phil hopes that his daughters make the same kind of mature decision that Ms. Wie made.
When asked about his approach to playing the Tournament, Phil focused on needing to get very low scores. He sees that there are many birdies to be had, the holes are not long, the greens are easily reachable and so there will be many opportunities to make under par putts. If he is not in a position to make those putts for low scores, and he doesn't sink them, it is unlikely that he will come close to winning. The emphasis needs to be on putting, not driving.
Phil found the Bob Hope Pro-Am Dessert Classic to be mentally and emotionally exhausting. The pro-golfers had to play 3 practice rounds and 5 tournament rounds – four of the five rounds were played with three amateurs. The final round of the tournament was played with professional golfers only. This was the first tournament of the season and he didn't feel mentally equipped to handle it. He complained about the weather conditions as well. The conditions were awful. Southern California had been having very cold temperatures. It even snowed in Malibu. There were two days of cold drizzle, and two days of high winds out of the dessert. Phil was drained by the intense focus it took to play each shot. During the final round, Phil hit three balls in the water. So, there were at least three factors that he sighted for his mental exhaustion: the weather, playing with amateurs and the requirement of so many rounds of golf in consecutive days at the beginning of the golf season.