Interview: Jean Potvin, Part II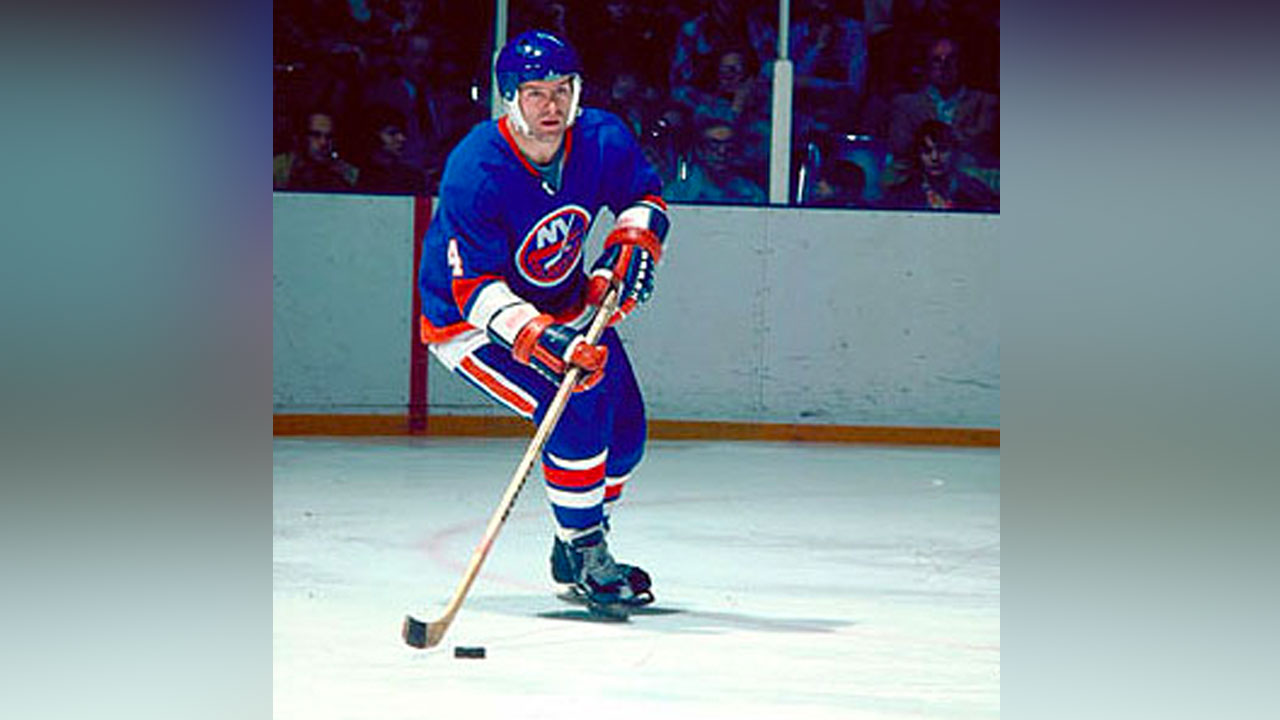 With Paul Schienberg, PhD
Part II: The Rise and Fall of A Professional Sports Team
Schienberg: The rise and fall of the New York Islanders is of great interest. An expansion team may be in existence for four, five, six years. Then, all of a sudden it wins the Stanley Cup (highest trophy in hockey for a team).
Potvin: In the last two years that I played we won the Cup and then they won two more right after I retired.
Schienberg: And the team came out of no where, right?
Potvin: People could see us coming because starting ….I was traded to the Islanders at the end their first season in the NHL 1972-73. At that time the Islanders went on to have the worst record in the history of the NHL up to that point. That summer my brother was drafted, Bill Torrey, a genius, general manager, recruited Al Arbor was recruited to become the coach. Al was the best coach I ever had. He and Scotty Bowman were the best coaches that ever coached hockey.
Schienberg: So, when Arbor came in, whatever talent had begun to be there, he added to the significant pieces to that team?
Potvin: What happened was that my brother was drafted with Bobby Bourne; and, the year before he had drafted Bobby Nystrum. Then, Trottier was drafted the following year. Clark Guilles was drafted also. Then John Tunnelli was added. So Bill Torrey was doing a wonderful job of scouting, recruiting and drafting these wonderful, young kids and they would come to training camp and there would be another piece to the puzzle. And Al was unbelievable at putting, implementing systems, disciplines on how to for-check, back check, different systems on the power play, penalty killing, how to play in a tight game against an offensive minded team like the Montreal Canadiens of the 70's, how to play against a rough and tumble hockey team like the Philadelphia Flyers and we repeated these systems at nauseas in practice. He would say, I want you to be able to do these things and recognize these things automatically on the ice without having to think. I want you to react instinctively and this is the way I want my teams to grow together. It was a combination of talented players that would be put together and coached extremely well by Al Arbor and every year from then on in we started to noticeably improve. In 1975, we made the players by beating the New York Rangers. Some of the Ranger players like Derik Sanderson said we would not win another game in the playoffs. It almost turned out to be true because we lost the next three playoff games against Pittsburgh. We were only the second team in the history of the NHL even to this day to come back from a three game deficit and beat Pittsburgh in seven. The seventh game we won one to nothing. Then we played the Flyers. We lost the first three games of that series and came back and won three. We lost the seventh game four to two. Every year after that if you look at our point in the standing we accumulated more points and then finally everything came together in 1979-1980 season. It didn't start off like that. It didn't look like that. In the middle part of the season my brother broke his thumb and he missed several months during that season. When he came back, I think it was sometime in March, he had not played since November, and at the trading deadline another fantastic trade occurred. We acquired Butch Goring.
And that was like the last piece of the puzzle. And with Dennis Goring and a healthy lineup, we hit our stride going into the playoffs. Al was great with preparing us and resting us, so we would enter the playoffs on a roll. A lot of teams crawled to the playoffs and make it, but they were not well prepared. They were tired. He was some kind of psychologist himself.
Schienberg: What was his personality like that gave him such a head for being a coach?
Potvin: Al was very unpredictable and that was the way he wanted it. Very simply put, I remember the first year Al Arbor came and I was playing regularly and then he started to take away some of my ice time. I went from playing twenty five minutes a game to dwindling from 15 to 10 and I was steaming. And Al would purposely not talk to me in practice and I would be dressing, I would play the power play and that was about it and I would be sitting on the bench and feeling really angry at him. And he wanted to see what I was made of – so instead of saying anything to me, he wanted to see what I would, how I would react. So, one day after practice, I said, "Al I want to talk with you." He said, "Fine, when do you want to talk?" My reply was "Right after practice, today." He said, "I can't today, but I'll do it after practice tomorrow."
I did not know it but we had a video guy who taped all the games. It wasn't like today. There was a guy in the press box who was taping all the games. Al had this video guy splice all the screw ups I made over the last seven, eight, nine games. The next day I go into his office after practice. All had a knack, you see he was a pretty big guy like 6 feet two inches. His chair was always a lot higher than the chair sitting across from him. So, you'd be sitting up looking up at him. He said, "What's on your mind?" "Let's cut to the chase here, I'm really upset. I'd like to know why my ice time has gone from 25 minutes to ten." He said, "Why do you think that's happening?" "I didn't know. I think I've been playing pretty well, getting a few points here and there," I noted emphatically. He said, "Why don't we watch a couple of video highlights of you over the past several games?" The video shows me going into the corner of the ice with the opposing player and the opposing player has the puck and the opposing player beat me out of the corner and goes in front of net and scores or the goal tender has to make a big save. And he replies it two or three times and doesn't say a word. Then he says, "Let's go onto the next clip in the same game." And he's got all these clips one right after the other and it's a piece where someone goes right around me at the blue line and heads towards the net alone and it's my fault. So, he does this for three or four different instances. He says, "So you still think you're playing pretty well?" He says, "Let me explain something to you and you might as well know it now. All I want, nothing more and nothing less, is one hundred percent. And if you think that is too difficult to give me I got a big problem with it. Let's break it down. How many games a week do we play on average? Three four? Let's say you are playing twenty minutes a game. That makes eighty minutes a week. If I can't get 80 minutes of your best, whether you have the puck or don't, you should be thinking, who's my man, what position should I be in, where should I be if they have the puck, where should I be if we are on the offense. You have a job for twenty minutes a game. And if you can't give me that, let me know and I'll have you on the first bus out of town. Do we understand each other?" I said, "Yeah, I got it. Thanks Al." On the way home I said to myself I can't argue with the guy. He's 100% right. It was part of growing up so to speak. He did it not just with me with me. He did it with my brother and many other players. He would pick his spots and all of sudden we were on the same page. We all at one point or another got the same speech. And he did it individually – not with everyone in the room where you are not paying attention.
Schienberg: Was he glad that you came to him finally?
Potvin: Oh yeah, I forgot to mention. He gave me a tap during practice. I was playing better. I was getting my ice time back. He said, "Potzy". I'm very proud of you. I'm glad you came to me because I would have allowed you to sit there. I wanted to see what you were made of. If would have sat there and accepted that would have told me volumes about you and your heart and your gut. The fact that it upset you makes me happy. And that's the way I want you to be because you are hungry – stay hungry. Al was a master of getting the best out of his players. And he would do it in different ways with different players.
Schienberg: Do you think he knew he had to provoke you?
Potvin: Every now and then he knew I had to be kicked in the ass. He use to really upset my brother.
Schienberg: How did he do it to Dennis?
Potvin: Well, Dennis was the real cornerstone of our team. He was the defenseman, quarterback, the captain. And Al would pick on him. Let's say, after the first period, if we were not playing well, Al would come in the room right before the buzzer would come on signaling we had to go on the ice in two or three minutes. He'd say, "Listen, I'm not going to name any names here, but this has got to stop. I don't care how well they're playing. If we were playing our best hockey this would not be happening." His voice would go up and down. He was a very intimidating person – not physically. He then say, "I'm not going to mention any names." He would then talk about what we did wrong and then he'd turn to my brother and he'd say, "You, you're the captain, I didn't see you, where were you the whole period?" Denny wouldn't say anything. But, Denny would play with an edge and play great hockey. Denny would be so upset with Al. But Al didn't care because he knew he had pushed the right button. After I retired, I asked Al why he didn't treat Trottier or Bossy the same as Denny. Al indicated that he knew if he could get Denny playing, the others would follow suit. And Denny to this day does not totally believe that Al was doing it for Denny's good. He was very angry at Al for many years. Denny said that if Al had walked in front of his car after practice, he would have run him over. There was no love lost between the two of them. Denny has a bigger ego than I do. And they would butt heads. That's why Al wanted me around. Denny and I would go out after a game and hang out together. Denny would vent his anger at Al and Bill with me. I'd say calm down. "You played like a hall of famer the last two periods. In the first period, I didn't know if you'd have enough strength to finish it. Al may have pissed him off, but look at the results."
Schienberg: Did that get through to him?
Potvin: It still would piss him off. Why doesn't he pick on the others. I'm getting tired of being the whipping horse. So, Al was a master. He didn't give a crap if we were angry at him. But, Al would go to bat for us with the press or with Bill Torry. Bill was unbelievable also.
Schienberg: In what way?
Potvin: Bill was always around, but he'd let Al run the locker room. Sometimes Al would turn to Bill and say I'm out of words. So, Bill would come into the locker room dressed in his bow tie after practice and we would be sitting there and he'd start "Trainers get out of the room. Al get out of the room." When Bill spoke we were going to get creamed. He'd slam the door and lock the door and pace the locker room back and forth for ten minutes. "You can continue to play like that but it won't be here." He once said to me, "If your father ever saw you play, he be kicking your ass all over this room. Do you think your father would be proud if he saw what you were doing out there on the ice?" Our father was a very good hockey player and he'd played against Montreal in jury hockey and then went to the Detroit training camp and broke his back and his career ended. He was a little tiger. He was not a good loser no matter what he was doing. He didn't know what less than 100% meant. Before Bill would draft a player, obviously talent is very important, Bill told me in the top three rounds you never know who you are going to draft. He said, "I never drafted any player that I didn't meet the parents. I wanted to know what his parents were like. Where the kid came from was important. What was the mother like? What was the father like? What did he do for a living? Was he a sincere man? Did he look at me in the eyes? That would tell me a lot about the kind of kid I was going to get." Then he called the midget or bandom hockey. He would get a full picture of what the kid was like.
My father was a great player. There are the right genes. We had a TV. It had three channels. The only time the TV would go on was to watch hockey. My father made a hockey rink in the back yard. Whenever we had a chance we would on the rink
Schienberg: Clark Gilles was the captain before your brother? Right?
Potvin: Correct.
Schienberg: Does the captain make a difference?
Potvin: Clark> was voted in as the captain. But, he gave it up. He wore the C for one year and didn't have a very good year. Some people put to much pressure on themselves. So, the next year, he gave it up. He said he wanted to concentrate on the team and my game. The C is giving me too much pressure. Bill and Al decided that Dennis would be the captain and that was the first year we won the StanleyCup. Dennis was no a rah rah kind of guy. He was much more by example.
Schienberg: So, what responsibility did the captain have over a regular player on the team?
Potvin: Be able to talk with your teammates about anything. Like a coach. You become very close knit – even more than the coach – certainly different. Must care about teammates. If we were disenchanted with Al, the captain would be the spokesperson. Al would sometimes ask Denny to call and team meeting and find out what's going on here. Sometimes Al was intimidating and people would not speak up. But, in private, you'd get more openness.
Schienberg: When Dennis would go to Al after a meeting, what would he say?
Potvin: He say, Al I think we had a great meeting and we accomplished a lot. Everything is better. Al would ask if he should get involved? Dennis would say no.
Schienberg: When you left the Islanders, was it because you were done?
Potvin: I was traded to the Cleveland. Al cried. They felt they needed me for Wayne Merrick.
"How'd you like to come to the Islanders, Al asked a year later. I miss your effect in the locker room." This is 1979. You might get a lot of ice time. I want you in the locker room. Get them mentally ready. I was 32 years old. He asked me to the voice of the Islanders. I said yes. So, I was on the radio for the next seven years. He works on the institutional side of Wall Street today.
Schienberg: What do you think of the new rules?
Potvin: I like most. Two, I don't like. You can stand in front of the ice without being hit and I don't like getting one point if you lose by way of a shoot out.