Interview: Jean Potvin: Part I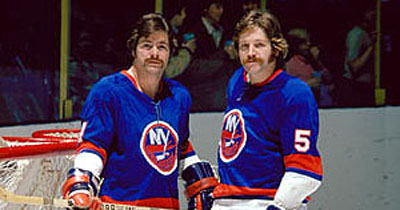 With: Paul Schienberg, PhD
Part I: Siblings and Athletics
Schienberg: I read over material regarding your sports career. I've seen you play hockey. I identified four areas that I'd like to talk with you about. One is the playing of sports with a sibling – namely your younger brother, Dennis.
Potvin: We've always played together. Dennis and I played three years together in junior hockey. I'm four and a half years older than he is and then I went on to turn professional. And I played four years as a pro and, as luck would have it, I ended up with the New York Islanders. I asked for a trade from
Philadelphia to the Islanders. And my wish came true because I knew that my brother was going to be drafted number one by the Islanders. From there on in we played approximately seven years together and shared some great times.Schienberg: He became a major figure.Potvin: Yeah, Dennis is a hall of fame player. Many people think of him as one of the top five defensemen. I was not in that class. I was a better than average player, but lucky enough to play with some great teams with the Islanders.Schienberg: Now, I know my brother and I…we loved each other but we also had our moments of difficulty.Potvin: I have to tell you that the time we fought the most was when we were little kids. Once we started to play hockey together, it was a totally different thing. I had a big brother type of attitude towards my younger brother. At thirteen or fourteen, it was obvious to me and everyone else that if he stayed healthy and focused, he was going to become a star – even at that young an age – and it was interesting – my father pulled me aside when I was eighteen and Dennis was fourteen – my father said to me you are going to look after your brother. And he said, what I mean by is that other players are not going to like a thirteen year old showing them up. Some of them are going to go after him and try to hurt him. And he said if someone hits your brother I want you to get in between Dennis and the guy and beat the crap out of them. And I did it and I gladly did it. I became very protective and wanted Dennis to be able to play his game. Dennis was a big kid for thirteen, but we were playing against twenty and twenty one year olds.Schienberg: So that is pretty young for someone to be put in the role of being a star. You're going to be the protector and he's going to be the star.
Potvin: I wasn't looking at it so much as he's going to be the star as I was going to protect my brother and on one is going to screw with him.
Schienberg: Your father told you that. He said in no uncertain terms you go out there and protect him.
Potvin: But, that's a role I had no problems with from the first game we played together. And the rules that my father gave to the coach, general manager and owner of the Ottawa 67's was that Dennis is to never be on the ice unless he is with Jean. I played right defense and he played left defense. So, the two of us must be on the ice together. If Jean gets a penalty, Dennis does not go on the ice to kill the penalty. If Jean is injured, Dennis doesn't play either. I want Dennis and Jean to be on the ice at the same time. So we were and luckily I didn't get injured. Again, I could see that the kid was becoming better with every game. I never had an ounce of jealousy. I just wanted him to be as good as he could be. From that time on, we spent a lot of time together on the buses. I would give him a couple of tips on what he had not done well or how he could do better, mistakes he made so he didn't repeat them. This carried on once I had four years of experience in the National Hockey League, when he became a rookie in the NHL and the process just continued from then on. And my brother and I never had any differences when we played together. But still Dennis is my best friend to this day.
Schienberg: Were you and Dennis ever separated from each other as hockey players?
Potvin: Dennis continued to play junior hockey when I went to the NHL. By then he was a big enough kid to take care of himself. At sixteen years old he was 5 feet 11 inches and 165 pounds. So, he could take care of himself. By the time Dennis got to the NHL he weighed two hundred ten pounds of solid rock. I said to him, "Remember all those years I took care of you, now it is your turn to take care of me." He's built like me but a little bit bigger. I played at 195 pounds and he played at 210-212 pounds.
Schienberg: What does Dennis do now?
Potvin: He does the color commentating for the Florida Panthers. So, he works during the hockey season and in the off season he has a place around Montreal and that's where he stays in the summers.