INTERVIEW: James Mason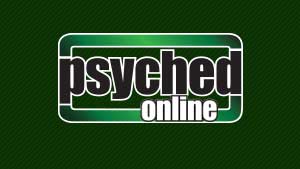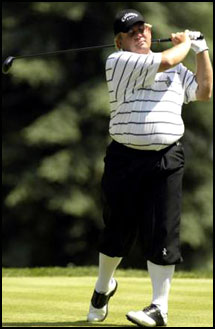 A senior professional golfer shares his mental approach to better performance in a tournament.
With Paul Schienberg, PhD
The Commerce Bank Championship was played from June 27 – July 2 on the now prestigious Eisenhower Park. The public facility was the home of the 1926 PGA Championship with legendary Walter Hagan. After watching James Mason practice for an hour or so after his round of golf on Friday of the tournament, he chatted with me about his mental approach to golf.
James Mason became just the 8th open qualifier in Championship Tour history to win a tournament when he triumphed at the NFL Golf Classic. He had competed in eight PGA Club Professional Championships, with a career best finish T-13 in 1997…was a teaching professional at the Orchard Country Club in Clarksville, GA…tied for fourth in the 2001 PGA Senior Club Professional Championship. In 11 tries in @002 he got into the Farmers Charity Classic and the NFL Golf Classic, which he won. He competed in the 1997 PGA Championship, 1973 Amateur U.S. Amateur, five BellSouth Classics, five Buick Southern Opens…winner, 1997, '98, and 2000 Georgia PGA Section Player of the Year.S: In order to be able to perform well you have to have control of your mind and be able to control all the outside emotions you have in life. One of the things we are fighting most on our team and in classes.
Schienberg: Are these things you do mentally to prepare yourself for the round of golf?
Mason: What you want to do is get a decisive game plan…you know…how you are going to play…what are your goals for the 18 holes…what does the course offer you…where its weak spots are…where are the holes you've got to try to make par…where are the holes you've got to try to make birdie. This golf course here is a course you've just got to try to drive it…drive it straight. So, you need to work on your driver and you know that before you head into the round. The first hole is one of the key holes on the golf course. You need to get off to a good start and that's probably the hardest par 4 on the course. So, mentally you've got to be ready to play. On any course, you've got easy holes and then some hard ones. But, the first and 18th holes here are the 2 hardest par 4's on the course; then, number 3 and 12 are relatively easy par 5's intermixed with 8 and 9 with easy par 4's. So, you've got a run in there from 8, 9, 10, 11, and 12 where you can make some birdies and, that's, where you've got to try to make some on this course.
Schienberg: If a golf course, like you are describing here, is not perfectly suited for the strength of your game, then what do you do with the mental approach?
Mason: Well, out here on the Tour, all of us can hit the golf ball. So, I don't know if you can call one suited or not suited. They are all suited for you if you can hit the golf ball. Sometimes you play better on some courses over other courses, and can't explain it. This golf course is hard to make a lot of putts because of the subtle nature of the breaks. Everyone would say that. Mentally, at our level, you can walk up and down and see everyone hits them about the same way, but, I'm trying to get more mentally prepared. We all got snakes in our head and there are those players who can conquer them the best.
Schienberg: So, when you are talking about prepared, you are talking about knowing the course and knowing where you want to hit the next shot and where you want to go after that?
Mason: Most of the amateurs you play are trying not to hit it somewhere – not hit it right – not hit it left. We are trying to hit it someplace. Amateurs are trying not to hit it here or there. We (us pros) sometimes get caught in that rut as well. When that happens, I say to myself, "James, don't hit it someplace" instead of saying – "try to hit it at a target."
Schienberg: The game is being played so long now. The technology is so intense. So, you believe the technology has run ahead of us humans? Do you believe the technology has been over played?
Mason: The technology is overplayed. Does it help you? Does it help the lower handicap golfers?
Schienberg: Occasionally, I take out one of these large head golf drivers and hit it just right and the ball does go farther than hitting an older small head driver of mine just right.
Mason: Ok, I'll agree. One of the biggest reason why some of those younger golfers hit it so far is the technology and matching the technology to you. The other reason is that the younger golfers are better physical specimens. Most of the senior players out here came from the era of being "feel" players. The amateur players, having grown up with the technology, develop more efficient swings, and are stronger, hit balls further with less accuracy.
Schienberg: Let me touch on one last area – yoga and golf. The benefits of yoga are balance, breathing, relaxing and stretching. Do you do anything yourself that helps in these areas?
Mason: I try to walk all the time – I do 5 or 10 minutes of trying to loosen up. In the off season, I need to do some yoga – need to stretch more because I find myself getting pretty stiff – like right now. I walked a round of golf and hit a lot of practice balls for about eight hours or so. It's a hard way to make an easy living.
Schienberg: I thank you for time this afternoon.
Mason: Glad to do it.